Credits
(Add-ons)
Credits Units of payment that are used for submitting Sales tax returns, VAT returns, or EPR reports. Each return costs one credit.
Auto-submit Credits
Go to your Plan & Billing page to purchase AutoFile Credits inside your Lovat account.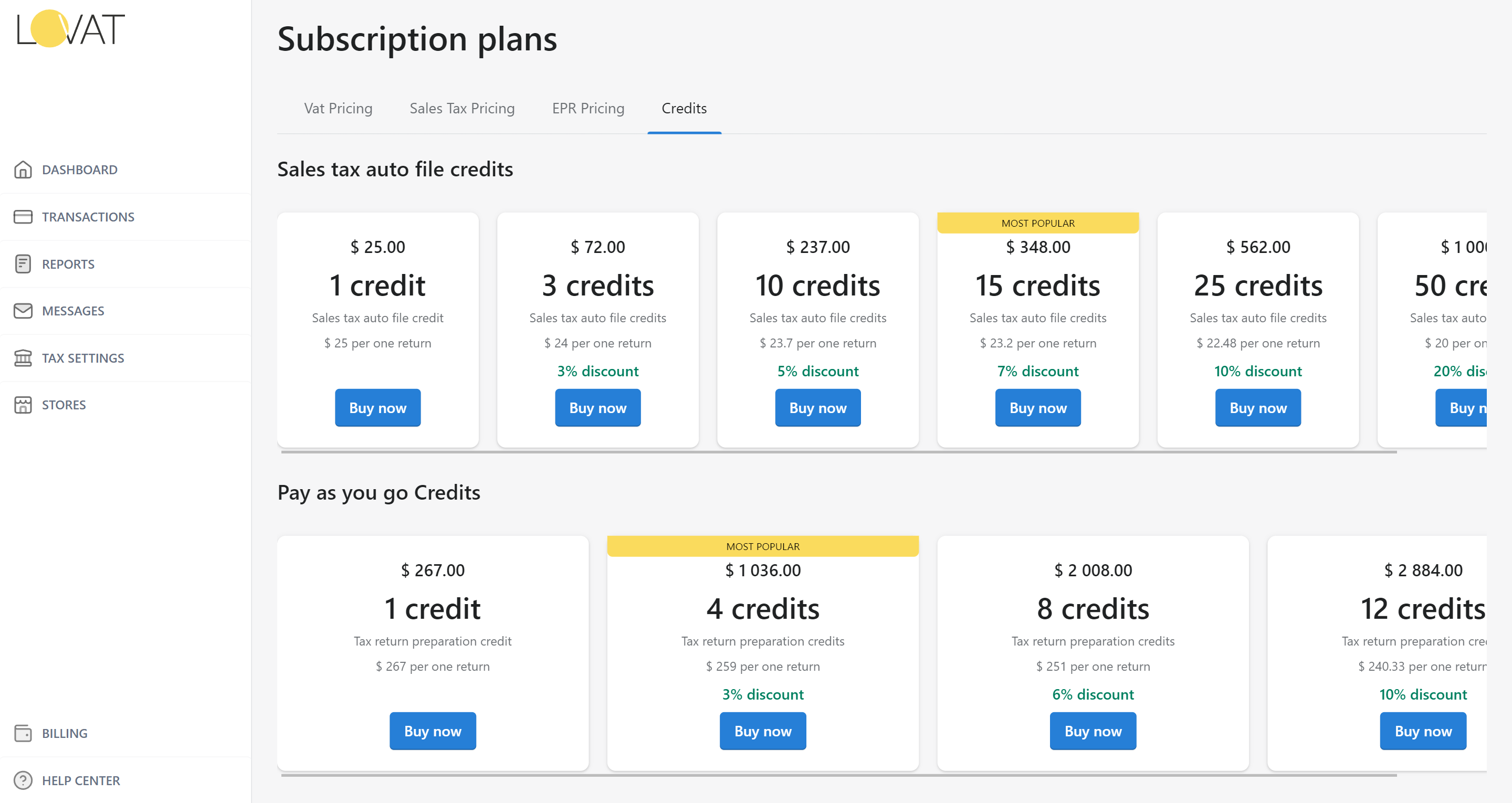 From the Add-ons section, click Add credits to view the available options.
After clicking "Select" on the bundle of your choice, you can review and confirm your purchase on the next page.
Your remaining credits are indicated in the Usage and Plan section.
Pay as you go Credits
This type of credit allows you to buy credits to file your tax returns manually by our tax team without subscribing to a monthly or yearly plan. We recommend this option if you need support for your tax preparation.
EPR credits
EPR reporting plans include 1 auto-submit credit- that allows you to submit one EPR return per year. If you need to submit your EPR reports more frequently than once a year you may buy EPR credits. Buy packs of EPR credits to send your EPR reports to a specific eco-organisation. The price depends on the volume of credits and the type of EPR registration.
Good to know
Add-ons can be used at your pace: they do not expire and will remain valid until you use them all.
You cannot get a refund for add-ons. Make sure you purchase the amount of add-ons you need to avoid wasting them.
When Credits are included in your plan, credit is issued on your membership's renewal date for yearly plans. This may be once every 3 months if 4 credits per year in your membership plan. Your renewal date is indicated in the Usage and Plan section.
Membership credits do not expire as long as you have an active membership, however, there is a limitation on how long you can rollover your credits. The maximum rollover period for Credits is 36 months.